In a tiny town on the coast of the south island of New Zealand called Hokitika, there is a delicious pizza place called Fat Pipi's. If you can say this without chuckling you are more mature than us. We grabbed a pizza before the sunset and took the leftovers back to our yurt. I definitely recommend grabbing a pizza here if Hokitika is on your list, which it should be.
You can read about our whole New Zealand Adventure here.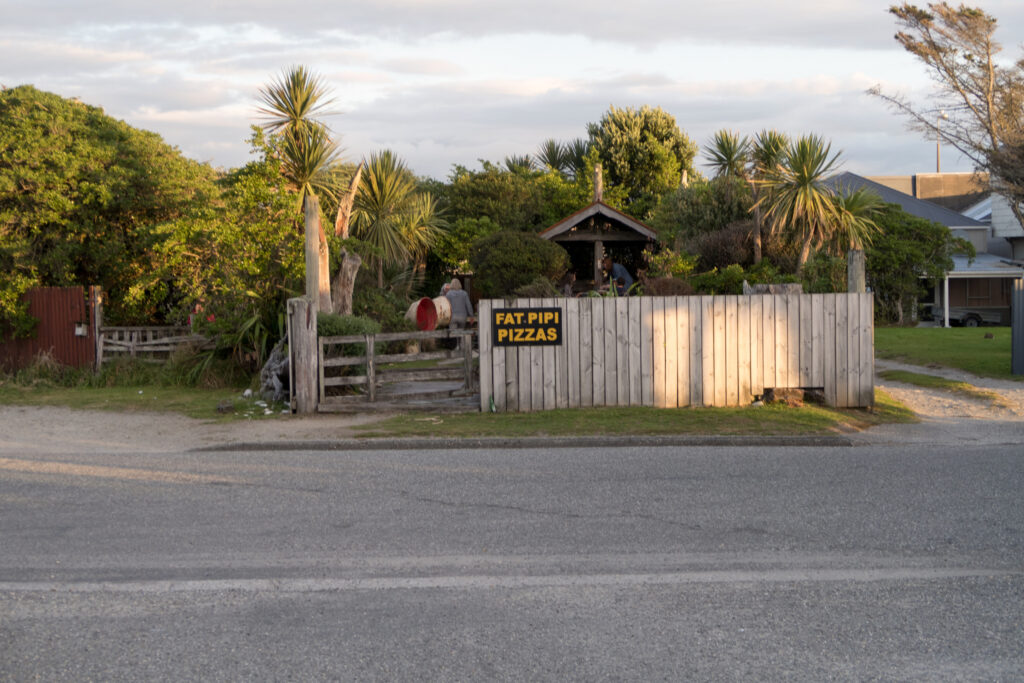 About Fat Pipi Pizza
In 2006, Pam and Mike were offered the opportunity to lease an unused pizza oven at a local bakery in their hometown of Hokitika on New Zealand's South Island. They decided to start making takeaway pizza in the evenings, naming their endeavor after one of Mike's fishing boats – Fat Pipi.
Within two years, demand had grown so much that they outgrew the bakery. They purchased a vacant building down the road, a former restaurant known as the Tin Shed, which had its own pizza oven.
Over the next two years, Mike renovated the interior after gutting it, and installing native timber furnishings. Pam maintained takeaway service until they finally moved into their new premises.
Today, after all the hard work and stress, Fat Pipi Pizza has become a popular destination, with people coming from around the world to enjoy the pizzas, wine, music, and lively atmosphere. The Maori meaning of Hokitika is "a place to return" – and that's just what many diners do when visiting Fat Pipi's.
The Menu
The menu at Fat Pipi Pizza features classic Italian pizza along with creative fusion pies. Locally sourced seafood, gluten-free options, sweets, and New Zealand wines round out the offerings.
Pizzas – Handmade bases with tomato herb sauce, melted mozzarella, parmesan, and parsley. Medium $25, Large $30. Gluten-free available.
Toppings include classic pepperoni, Hawaiian, Tex-Mex, chicken, cajun, vegetarian, and seafood like shrimp and smoked salmon. Sweet dessert pizzas are also available.
Appetizers & Salads – Garlic bread, soup, chowder, and mixed greens salad with vinaigrette.
Beverages – Extensive wine list including house Pinot Noir "Far Canal". Beers, ciders, juices, soft drinks. Complimentary water.
Coffee & Tea – Wide selection of specialty coffee drinks and teas.
Desserts – Ice cream sundaes with various sauces and toppings. Chocolate pudding.
Visitor Information
Fat Pipi Pizza
89 Revell Street, Hokitika, Westland, NZ.
Telephone: +64 3 755 6373
Open 5 Nights.
​
Hours
Thursday – Monday: 5.00pm – 8.00pm
Saturday & Sunday: 12noon – 2.00pm (lunch). Summer months.
Tuesday & Wednesday – Closed
See Facebook page for updates