Just a short drive from Denver lies the charming small mountain town of Georgetown. Georgetown is home to the historic Georgetown Loop Railroad. This old-fashioned train provides a scenic ride along a narrow gauge railroad that was originally built in 1884. With its quaint shops and restaurants lining the main street, the town of Georgetown also makes for a pleasant stroll before or after your train ride.
On our recent visit to Denver in September, we decided to spend a day taking a ride and exploring the area. I definitely recommend adding it to your Denver Itinerary if you are visiting, it's a great family-friendly activity and a unique way to get outdoors.
Brief History of the Georgetown Railroad
The railroad was constructed as part of the network carrying silver ore from the mines around Georgetown down to Denver. The steep climb required an innovative "loop" design with trestles, grades, and tunnels. Although the railroad ceased operating in 1938, it was restored in the 1970s as a history-themed tourist attraction.
Plan Your Visit
The Georgetown Loop Railroad operates daily throughout the year, with some seasonal schedule variations. Tickets run $36 for adults, while kids under 3 can ride for free as a "lap child." Children over 3 require their own seat for $30. All tickets are for unreserved bench seating, providing panoramic views. I would recommend getting your tickets online in advance but you will still need to pick them up from will call so get to the train station at least 20 minutes early and hop in line so you can get a good seat.
We had our little just barely under 3 with us and had bought a ticket for her, unless you are going in peak season and tickets are almost sold out I would not do this. There are no traditional seats, just the long benches, so it's easy enough to sit the little between you if needed. We had almost a whole train car to ourselves.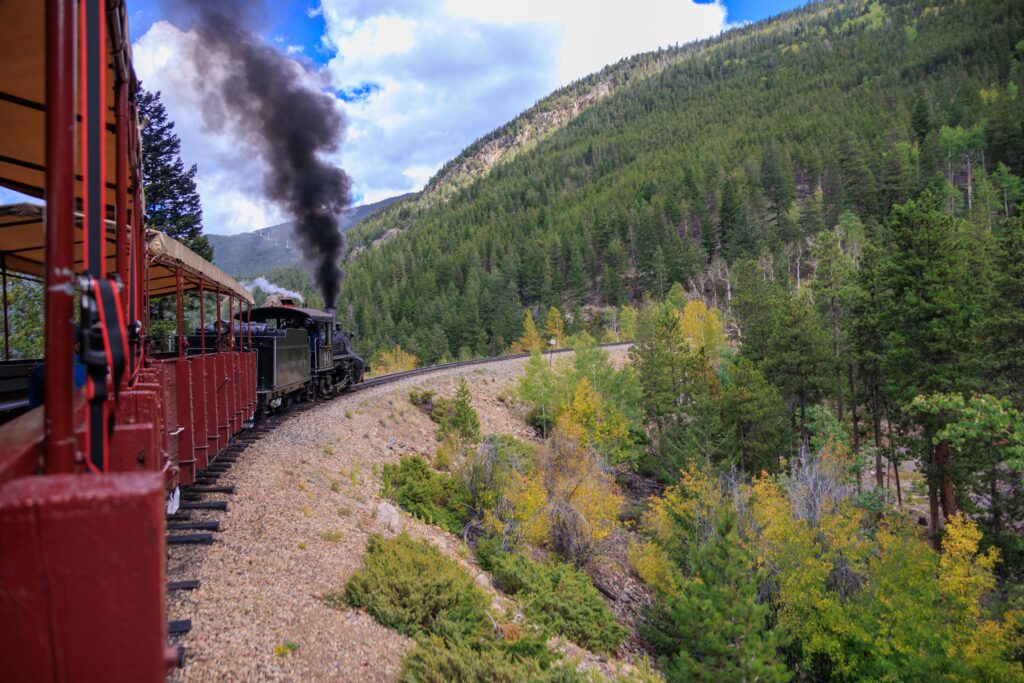 Seasonal Visits to Georgetown Loop Railroad
Each season offers its own charm. In summer, evergreen trees and wildflowers dot the mountainsides. Fall provides a colorful display of golden aspens mixed with green pines. Winter transforms the route into a snow-dusted wonderland, perfect for the special Santa Train rides. Spring brings fresh greenery and mountain runoff.
The Route
The 40-minute, 15-mile round-trip ride departs from the restored depot in Georgetown. Ascending 640 feet, the train passes by abandoned mines and mixed conifer forests. At the summit, the tracks loop over themselves via a grand trestle bridge offering spectacular views.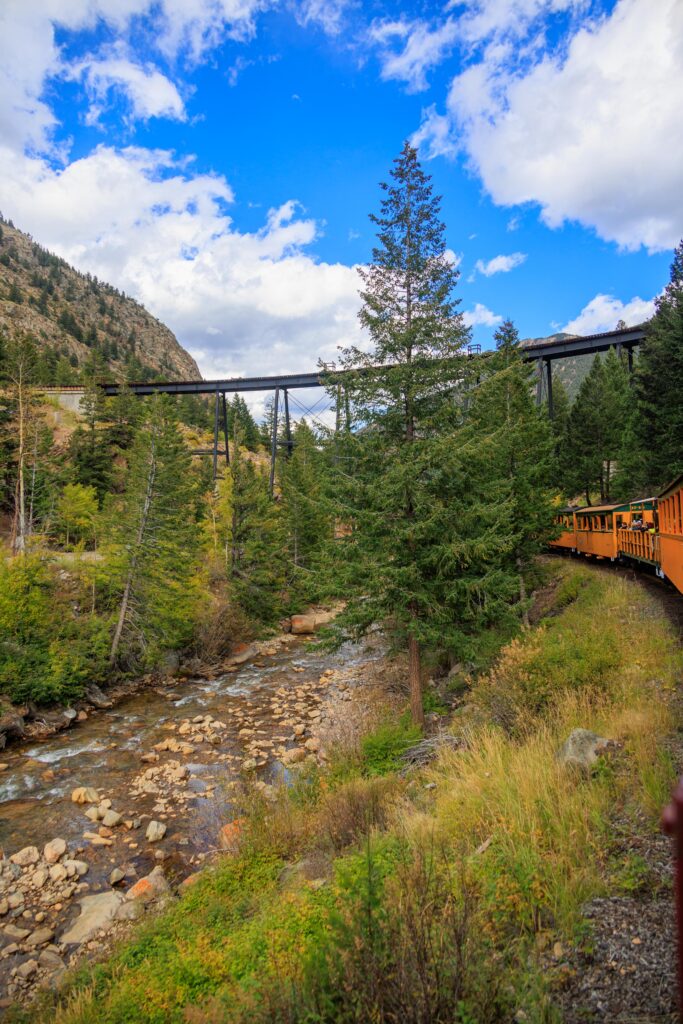 After Riding the Georgetown Railroad
After disembarking, drive 15 minutes up Guanella Pass for incredible views of mountain peaks and valleys. The scenic byway leads to a visitor center at 11,669 feet elevation. Keep your eyes peeled for bighorn sheep and moose along the drive. With an easy turnaround point, it makes for a perfect hour-long excursion from Georgetown.
We were so excited and surprised to see this guy wandering across the road!! turned a corner and bam! There he was. He was so close to the car it was almost scary at first, frantically grabbed my camera to snap a few photos of him before he sauntered into the forest.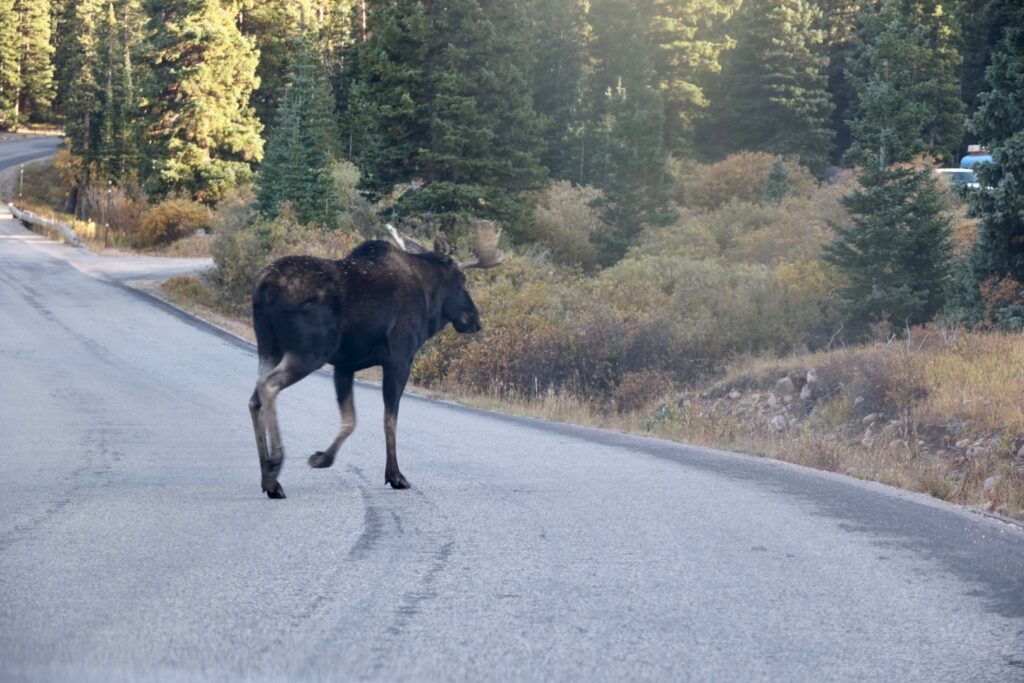 On your way back, be sure to stop for dinner at Coopers on the Creek in downtown Georgetown. This local favorite serves up delicious fare like their signature duck pot pie – the perfect way to cap off your day of train rides and mountain views.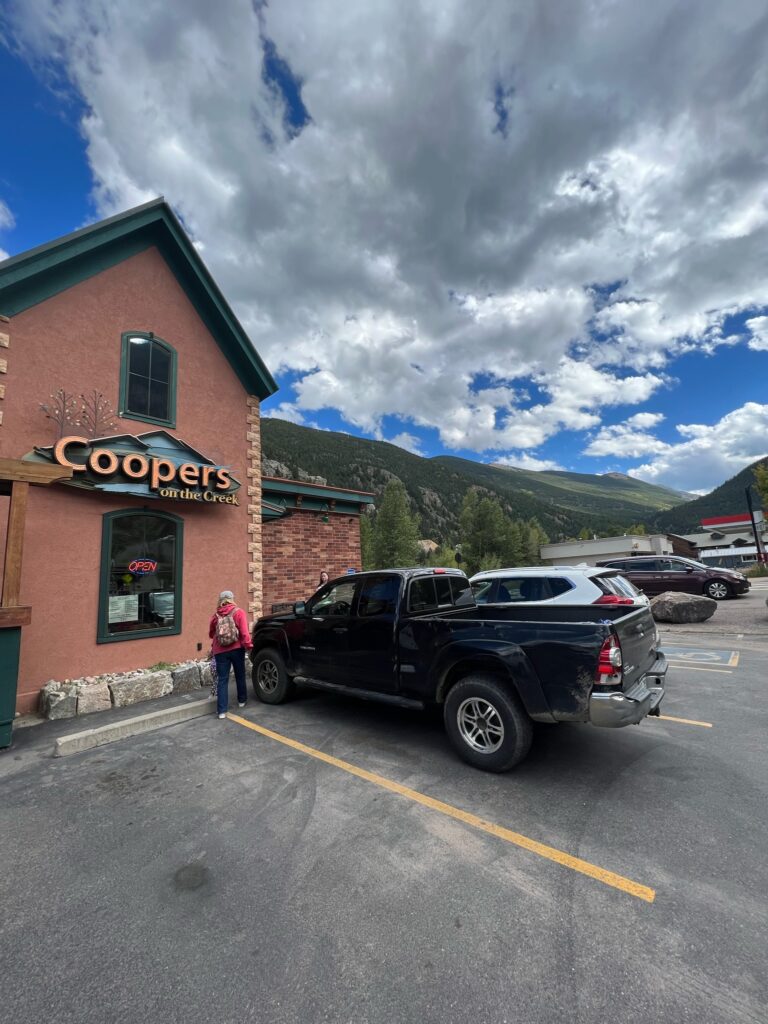 All in all Georgetown and the historic Georgetown Loop Railroad should be a destination to see when in Denver, It is the perfect way to spend a day!
You can read more about things to do in and around Denver HERE.